7
Pro-Lift Z-Creeper Seat
What's most notable to me about the Pro-Lift Z-Creeper Seat is how I found it. Since Mother's Day is coming up I was browsing Amazon's Find a Gift section, filtered to women, and up popped a convertible mechanics seat! Now I'm not saying a bench to facilitate working on your car or truck in the garage isn't a suitable gift for women. All I'm saying is when I personally saw the Pro-Lift Z-Creeper Seat in my search for a gift for my mama, the next thing I saw was Mama in her gardening smock and Danskos sliding herself under the Subaru to do an oil change. And how I felt about that was, Hahahaha. [See Brian Fellow GIF.]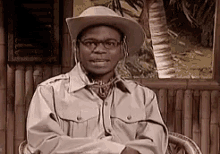 No slight to the creeper seat, of course. It looks like a solid item for actual mechanics and workshop tinkerers. As its name suggests, the seat folds into a "Z" shape for upright work, and then collapses flat for low-clearance overhead work. And also for Seal Races on your belly with friends who also have a Pro-Lift Z-Creeper. A thick padded bed provides support and comfort, while 6 swivel casters add mobility, especially in tight areas, and as you head into the curves on your race course.
If you're wondering, I didn't buy the Pro-Lift Z-Creeper Seat for my mama. Not after I saw Honor Yourself: Meditation Guided By Diddy also available, and even more in my price range - free!
DudeIWantThat.com is reader-supported. When you buy through links on our site, we may earn an affiliate commission. As an Amazon Associate we earn from qualifying purchases. Learn more.
More Products You Might Like