Giveaway Partnership Information
Are you interested in co-hosting a giveaway with DudeIWantThat.com? That is, are you interested in showing a monthly audience of over 1 million! (that's a lot of balls...eyeballs) how awesome your product is at a cost to you of no more than your awesome product? Then drop us a line with your giveaway offering, and if we think it's a good fit for our readership, we'll be in touch to make arrangements, coordinate the specifics, and, best of all, take care of the grunt work.
What You'll Give
A sample (or multiple samples) of the product you want to promote. We will consider any item compatible with the Dude ethos, provided it is safe and legal to award as a prize, and doesn't carry age restrictions. Items that traditionally garner the best response are those that are unique, new to the market, or coveted by a large audience. As you might expect, items with higher retail values also tend to have a proportionately higher appeal. We usually ask that the item(s) provided for the giveaway total at least $250 in retail value, but prefer that they are around $500 to keep the equation fair for both us and our giveaway partners from a value provided standpoint.
Some examples of past successful Dude Giveaways:
What You'll Get
Nothing! You'll get nothing! Ok, you'll get something...
Front page coverage on Dude for at least the duration of the giveaway, and longer if your product is popular with our readers.
We'll also write a full-length feature extolling the virtues of the prize, complete with purchasing links to your Website, a gallery of images/video you provide, and marketing of the giveaway on our social media platforms. The writeup will remain on DudeIWantThat.com permanently.
Traffic to your site from the giveaway.
Great feedback from our readers about your product.
Other sites talking about your product. Dude is the barometer for product review blogs all over the Internet. When we talk, people listen. You'll almost certainly get some collateral media coverage after other sites see your product on ours.
Still don't understand the benefits? This graph should help.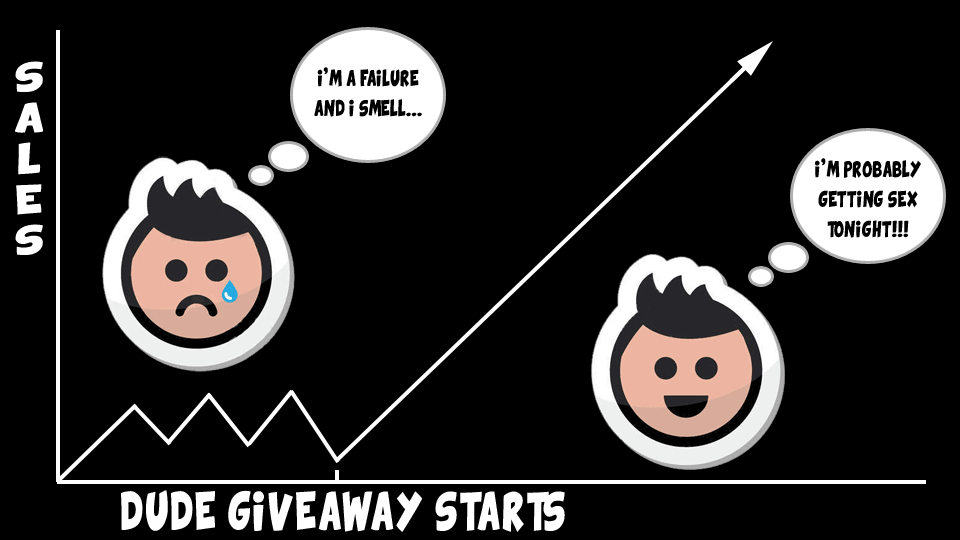 Testimonials
Rattlerstrap Paracord Belt: Website views before Dude Giveaway: 30-50/day; First day of Dude Giveaway: 2,000; Over 7 days: 6,500. Sales during giveaway: 15.
Urbantrike Adult Big Wheel: "There was a tremendous amount of views as well as selling 5 [big wheels] directly from your site."
Giveaway Procedure
Dude Giveaways run for one week, starting at midnight on a Monday and concluding at 11:59 p.m. the following Sunday. We handle all registrations, winner selections (random drawing), and winner contact. Once we have notified and received shipping information from the drawn winner, we will pass it along to you for direct dispersal of the prize.
Vendors do have the option to restrict entry to designated geographical locations (e.g., US residents only). This incurs the ire of some of our readers, but we do understand the costs and limits imposed by international shipping procedures can make it difficult to allow worldwide participation.
Cool, Let's Get in Bed Dude
You've made a wise decision. We're great in the sack! Just shoot us an email with your information (company, website, product etc.) and we'll get back to you right away.
Frequently Asked Questions
1) Can you make it so people have to share, like, follow, tickle... our page to enter the giveaway?
No. We don't do that. We find the more simple the entry process, the more interest and better response to the giveaway.
2) Do you share the information provided by people that enter the giveaway (email, name etc.)?
No. It just gets into too many privacy and information sharing hoops to jump through for us to go down this road. We assure you, you'll get tons of value from your giveaway by just provding the product. Nobody is ever disappointed (that's still alive).
3) Can I provide the copy/tell you what to write?
You can send product descriptions and tell us what you would like us to highlight, but as distinguished and unbiased critics we'll ultimately say what we want. There is a 95% chance we will not say anything mean. Probably.
4) Can I send you 1,100 coordination emails and micromanage the giveaway?
No.
5) Can I participate in a Dude giveaway more than once?
If we both find the first giveaway mutually beneficial, absolutely.
6) I sell multiple products or multiple styles of my product. Do I have to pick just one for a giveaway?
Not necessarily. We have run several successful giveaways that offer the winner a choice of any product/model from a vendor, often with a price cap (i.e., any pair of sunglasses valued at $400 or less.) They work well, and encourage reader browsing of your online store.