7
Cliffset - Portable Cutlery Set with Dishwasher
Always be prepared, Boy Scouts! And with the Cliffset portable cutlery set, being prepared goes beyond being prepared to chow down on some delicious food at any given moment. It includes the aftermath of on-the-go gorging: cleaning your shit up. Cliffset comes with a fork, a knife, a spoon, and a little dishwasher tool to scrape off and wash up the first three after you're finished gunking them up with poke bowls, burrito filling, and your own saliva.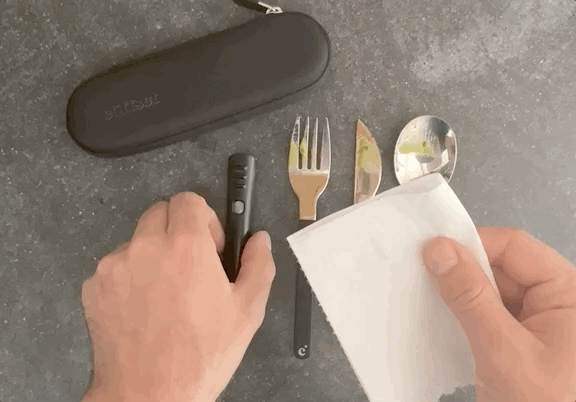 The Cliffset "dishwasher" is a pen-style tool with a custom-contoured scraper on one side and a spray nozzle on the other. The scraper has ridges shaped to fit precisely between Cliffset's fork tines, and both straight and curved edges to get after the Cliffset knife and spoon. The tubular sprayer fits inside the tool's shaft; you'll fill it with "your favorite no-rinse cleaning solutions."
Uh...of which I have none.
Cliffset recommends pure lemon extract - alcohol, water, and lemon oil - as a food-safe, no-rinse solution that's easily accessible in stores and online.
In addition to adhering to the Scout's Motto, Cliffset salutes the environment with a set of utensils and a cleaning solution that, unlike plastic, are reusable and eco-friendly. Utensils are made of food-grade 18/8 stainless steel and powder-coated handles. They're dishwasher-safe, if you want to clean them the old-fashioned way sometimes, and come in a variety of colors, including plain silver.
More Products You Might Like