19
SwitchBot Curtain - Automate Any Curtain Rod or Rail
SwitchBot Curtain is the newest addition to the SwitchBot family of tiny retrofit devices you can boop! onto common household items to make them smart. In this case, the SwitchBot Curtain slips onto any style of curtain rod or rail to automate the opening and closing of your drapes.
According to SwitchBot, you can get a SwitchBot Curtain up and running in about 30 seconds, clip-and-go style, on 99% of the curtain rod and rail types available. That includes U-rail, I-rail, and even rods with "bumps" created by extensions. The automatic opener / closer is wireless, fitted with a rechargeable battery that lasts an average of 8 months per charge. Eight frickin' months! I mean, I know I don't open and shut my curtains as much as I stream r/aww videos and porn on my phone, but seems like some of that SwitchBot technology could help a society out, so we aren't scrambling to revive our dying smartphones twice a day.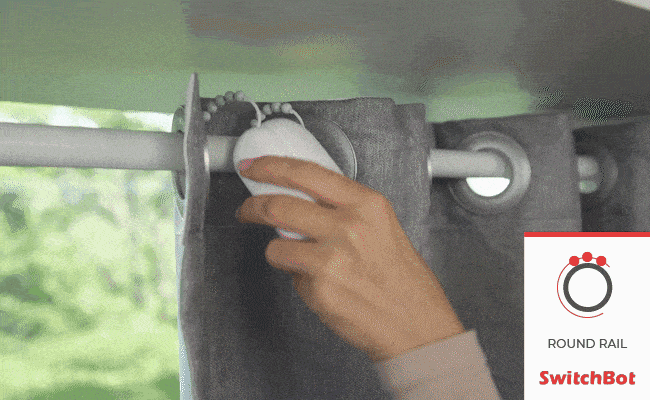 Once in place the SwitchBot Curtain offers up a bevy of options for activating it. You can use the Curtain iOS and Android app and slide a button bar open / close to make your drapes do the same. You can pair the SwitchBot Curtain with your Alexa, OK Google, or Siri and voice command, "Alexa! Let there be light!" and "Siri! Make the world dark!" You can maintain some of your nostalgia for the analog and make to open the curtains by hand, at which point a SwitchBot Curtain sensor will kick in and finish the job for you. You can get an add-on remote control for push-button activation. Or you can let the sun do the work, and use SwitchBot Curtain's built-in sunlight sensor to have your curtains open / close automatically according to when you want to let the sun's light and heat into your house.
At printing the SwitchBot Curtain was available for pre-order here on IndieGoGo, with an anticipated ship date of April 2020.
DudeIWantThat.com is reader-supported. When you buy through links on our site, we may earn an affiliate commission. As an Amazon Associate we earn from qualifying purchases. Learn more.
More Products You Might Like